---
We are Manufacturer, Supplier, Exporter of Platform Shaker, Benchtop Shaker Incubator, Benchtop Orbital Shakers, Table Top Orbital Shaker, Benchtop Shakers,. Our setup is situated in Pune, Maharashtra, India.
Platform / Table Top Shakers :
A platform shaker has a table board that oscillates horizontally. The liquids to be stirred are held in beakers, jars, or erlenmeyer flasks that are located over the table or, occasionally, in test tubes or vials which can be nested into holes inside the plate. Platform shakers can also be combined with other structures like rotating mixers for small systems and had been designed to be manufactured in laboratories themselves with open supply clinical system.
Table Top Orbital / Platform Shaker ( Manthan TT25 )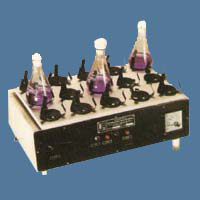 Capacity 
:
 25 clamps of 250 ml or 16 clamps of 500ml or 9 clamps of 1000ml
Platform Size
:
 17" x 24"
Overall dimensions
:
D x W x H = 18" x 26" x 7"
Shaking Orbit
:
 12.5 mm or 25 mm or 50 mm ( customized orbit available on request )
Speed 
:
500 RPM @ 12.5 mm orbital stroke
400 RPM @ 25 mm orbital stroke
300 RPM @ 50 mm orbital stroke
Control system
:
Microprocessor based control system
RPM accuracy
:
( ± ) 2 RPM or better
Mechanism
:
 Heavy duty longlasting mechanism with both obital & linear motion.
Illumination
:
 Illumination unit for photosynthesis can be provided ( optional )
Power required
:
 230 V, 50 Hz Single Phase, 5 amp stabilized.
---
Table Top / Platform Shaker ( Manthan TT15 ) : Coming soon
Table Top / Platform Shaker ( Manthan TT42 ) : Coming soon